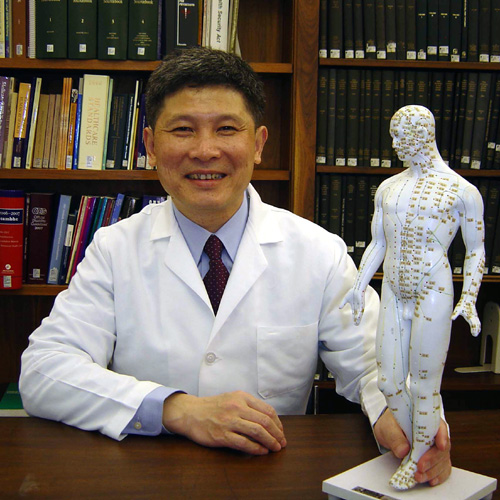 Common Ailments Acute and Chronic Laryngopharyngitis (dry and sore throat); Amnesia, Attention Deficit Disorder, Arrhythmia (heart palpitation), Arthritis, Autism in adolescent and young adults, Back Pain, Congestion/swelling and pain of eye, Constipation or diarrhea/Irritable Bowl Syndrome, Diabetes, Dysmenorrhea, Globus hystericus, Impotence, Influenza/High Fever, Intercostal neuralgia, Insomnia, Headache, Hypertension (High Blood Pressure), Insomnia, Peripheral Facial Paralysis, Prosopalgia, Prolapsed Uterus, Ptosis, Retention of Urine, Sequela of Apoplexy (Stroke), Simple Obesity (weight loss), Sterility, Stopping Smoking, Tennis Elbow, Toothache, Uterine bleeding etc.
Ailments of my specialty (help people with scheduled relief from the chronic conditions as below)
1. Diseases of Locomotors System: Comparing to surgery or medication, most of my patients have acquired better results receiving my Specialized Acupuncture. Some of them write about their experiences through Testimonials which you can read in more detail on my website
Arthritis, Bunions, Car Accident Syndrome, Carpel Tunnel Syndrome, Cervical Spondylopathy /Spondylosis, or stress with neck and arm tension/pain; Gonitis (knee pain with limited leg movements), Vertebra Herniated disc, Numbness of Extremities, Planter Fascitis (heel pain), Scapulohumeral Periarthritis/ Omarthritis (shoulder pain with limited arm movement), Sciatica, Spinal Stenosis
2. Diseases of Ear, Nose, and Throat: Specialized Acupuncture provides a quicker relief from allergies while saving the patient both symptom durations and out of pocket expense compared to modern therapies(medications, shot .etc)
Allergy, Allergic Rhinitis or Chronic nasal congestion, Auditory Vertigo, Hearing Loss (Deafness), Nasosinusitis (sinus pressure), Tinnitus (ear ring)
3. Neural and Mental Diseases: My intuitive practice helps people receive total relief from a wide range of symptoms of Anxiety, such as: shortness of breath, heart palpations, trouble sleeping, nausea, loss of appetite, pins and needles feeling from head to toes, nervousness, night sweats, tingling that felt like a cell phone vibration was going through out body, chest pain, headaches etc,
Anxiety, Peripheral Facial Paralysis (facial Pain/spasm).
Common Ailments: First treatment with initial consultation $130.00 for 50 minutes; follow-up treatments: $105.00 for 50 minutes or $70.00 for 30 minutes
Special Ailments: First treatment with initial consultation $225.00 for 50 minutes; follow-up treatments $135.00 for 50 minutes or $90.00 for 30 minutes
Housecalls available
Referrals: a bonus is paid for each and every complete patient referral. Please contact me for details
"Working 27 years in both Commercial and Residential construction industry took its toll on my body. On a suggestion from my wife after she read an article she suggested to try acupuncture. In general the pain I was experiencing was interfering with life's activities we all take for granted. I began receiving alternant treatments from Dr. Liu for lower back pain and bilateral knee issues mainly my right knee which was diagnosed with medial collateral ligament tears that never seemed to heal. I will say I was in pain every day and very fatigued my next recourse would have been surgery. From the very first treatment with Dr. Liu I began to receive relief from the pain, gained mobility and what I felt as an increased integrity within the both knee joints while avoiding surgery without any downtime and major rehab.
Alternating treatments and now for my lower back has improved tremendously. Through Dr. Liu intuitive acupuncture he found and addressed small surrounding areas within my lower back region that were contributing factors to my pain. After my sessions I not only gained relief from pain but the ability to function overall with less fatigue. The treatment protocols have been tremendous. Feeling well with increased range of movement I have been incorporating stretching to my daily routine.
Receiving Dr. Liu acupuncture and feeling better, to date I am walking my dogs every day, more active, stretching and now going to the gym. Another unexpected gain from the treatments has been a better sense of self, calmness and focus. I am now continuing maintenance treatments to manage stress and general maintenance. My wife has seen the biggest change. I would highly recommended Dr. Liu as his exceptional treatments offer an alternative to your overall health."
James P, Newington, CT
"I was diagnosed with psoriatic arthritis a couple of years ago. I had had a real hard time getting around and doing the things that I want to do. I tried therapy that didn't do much. Then I had to try some drugs that were even worst I was still very sore and unable to do the things that I most wanted to do. Then, I tried acupuncture with Dr. Chunhui Liu. After 4 treatment sessions, I feel much better. Now, I am on my 8th treatment. I am able to do much more I will be forever grateful for this chance. I am sure that I will be back if anything changes in the future but for now let it be known that it has done a lot to make my life better."
Carol R, Rocky Hill, CT
"I am a 67 years old retired RN and have been seeing Dr. Liu for the past several months. I have moderate / severe osteoarthritis, sinusitis, allergies and sciatica.
Dr. Liu has been treating my shoulders, which I was told needed replacement of, but I try to avoid the surgery because my right shoulder had a surgery before. I don't think the surgery could work. Now, after sessions of acupuncture with Dr. Liu, I have a better range of motion and decrease of pain with movement.
From 1971 to 2011, I had more than 20 surgeries of polypectomies to try to get relief from my chronic sinus pressure. However, it still bothered me too much all times, although each the surgery could give me a relief for a few months. My sinuses are better and my hearing has improved greatly. My sciatic has gone and I am more mobile with less pain. I walk more upright / straighter with less back pain compared to that I used to walk in a bowing style for many years.
All this has also improved my insomnia. I am so grateful for Dr. Liu's care and am amazed at the results of his 16 sessions of treatment. I would like continue to take treatment sessions with him to get my chronic conditions relief totally."
Mary B, Glastonbury, CT
"My name is Krystyna and I got the Mirena (which is an IUD birth control) on April 7, 2013. On, June 20, 2013, I noticed that I was having horrible anxiety for no reason and I thought it could be from the Mirena, so I removed the Mirena a week later. Only 20 % of women get the side effect of anxiety from the Mirena. I tried homeopathic medicine called Nerve Tonic and drank lots of chamomile tea for my anxiety and that did not help at all. So I made a doctors appointment on September 2, 2013 and explained my symptoms to the doctor and they told me I was having anxiety attacks and I should try going on Celexa and Ativan. The symptoms that I was having from my anxiety was shortness of breath, heart palpations, trouble sleeping, nausea, loss of appetite, pins and needles feeling that went from my head to my toes, nervousness, night sweats, tingling that felt like a cell phone vibration was going through out my body, chest pain, headaches and I was simply not able to relax on a daily basis. On, September 6, 2013, I started taking 5mg Ativan as needed and 10mg Celera daily. The medicine helped my symptoms decrease but I was still having the same symptoms. I could not deal with my anxiety any longer. I found an article online that acupuncture has helped women with their anxiety attacks. On, October 3, 2013, I went to see Mr. Liuchunhu, for an hour acupuncture treatment for my anxiety. When I left the appointment, I was calmer and was wondering if the anxiety would continue to decrease. As the day progressed, I felt more at ease and the tingling through out my body ceased. I started to feel like myself again. I did not have to take my Ativan that night and was able to sleep well. On October 4, 2013, I did not have shortness of breath, heart palpations, and pins and needles feeling, sweating and tingling through out my body. I was relieved that I finally found another treatment that could help me deal with my anxiety. On, October 5, 2013, I started to feel the anxiety come back. I had shortness of breath, pins and needles through out my body but it only lasted for about 20 minutes. Mr. Liuchunhu informed me that I would have to get about six more acupuncture treatments to help me with my anxiety. I personally feel that because of the acupuncture it has helped me with my anxiety symptoms and I am happy that I tried it. It is a great alternative then me having to take my 5mg Ativan. I am sensitive to medication and do not like the side effects of taking medicine. I now know that acupuncture is a great way to deal with anxiety.
I made another appointment with Mr. Chunhui Liu on October 17, 2013 to have my second acupuncture session for my anxiety. It is October 24, 2013, and a week later, I have found that the acupuncture sessions have relieved my anxiety. The day I received my second acupuncture session I felt calmer that day. I still had some sweating, heart palpations and shortness of breath on October 17, 2013. My friend even noticed that I looked more relaxed that day. On October 18, 2013 I was anxious and had some shortness of breath but I didn't have any tingling sensation through out my body or sweated. On October 19, 2013 I was feeling even better and was feeling like my old self again. I was able to go for a hike and spend the day outdoors on the beautiful fall day. I did not have shortness of breath, heart palpations, sweating, chest pains or tingling through out my body. The anxiety has made me feel exhausted so that was a good feeling that I was able to get my energy back. I had no appetite because of my anxiety and I am able to eat again since the two acupuncture treatments. On October 20th, 21 and 23, 2013 I felt pretty good I was anxious and had some shortness of breath through out those days but I was able to deal with just that symptom. Since, the two acupuncture treatments I stopped taking my Ativan because my anxiety symptoms are manageable. I was very pleased with Mr. Chunhui Liu acupuncture sessions and would recommend him to any one that would be interested in getting acupuncture treatments."
Krystyan Salek, Vernon
"I came to Dr. Liu seeking help for vertigo. After several tests my primary told me I have a form of vertigo known as B.P.P.V. I am 79 years old and wasn't getting any relief from regular treatment. Dr. Liu agreed to work with me and I have seen a great improvement. I've had seven sessions and now have my balance back. No more dizziness, no anxiety, dry mouth, bitter taste and my sleep is more sound and longer lasting. So if there is something bothering you I'm sure Dr. Liu can help you too. Thank you Dr. Liu!"
J. Roy, Newington
"Dear Chunhui Liu, I want to thank you again for treating my tinnitus with acupuncture, before I came to you I suffered from tinnitus for many years and with two treatments my ears are almost 100% fine with no ringing. Thank you again for your great care and I will be coming back to see you soon."
Joseph G. Chabot Sr., Oakville
"Since the end of January 2013 I have experiencing headaches on a daily basis. The pain was always in the same area, left side of the forehead, left temple and around the left eye. These headaches would come in all ranges of severity and length. On a scale from 1-10 they would average a 5, and could spike up to an 8 or 9. The start of these headaches can occur in the morning, sometimes in the evening, sometimes for 1 hour, sometimes for 6 hours. The only thing that could ease the pain was ibuprofen. I was taking 4 pills a day to lessen the duration of these headaches.
After all the standard dexterity/brain tests, the neurologist said I had chronic headache and prescribed topomax. I decided on trying acupuncture before starting the topomax. Good thing I did. I met Dr. Liu on a Thursday for the first time. The first few needles were fine, but after the 7th I got a little dizzy. Dr Liu removed the needles shortly after that. The dizzeness subsided and I was able to go back to work within minutes. The headache started to disappear! Friday and Saturday, NO HEADACHE! That was the first time I had two days in a row headache free. On Sunday, a mild headache came back for only an hour or so. My second acupuncture treatment went very well. No dizziness at all, zero discomfort and nearly a week before a mild headache returned. I don't know how acupuncture works, but I am becoming a believer!"
J. Webster, Newington
"Thank you very much for your acupuncture treatment. I was suffering with kidney stones for a week. Before the acupuncture session, I had back pain and kidney pain on a scale of 1 to 10 of 10, after the treatment it was only 2.5 on a scale of 1-10. After only one hour of your acupucture treatment I passed a very large stone. I had passed two small stones 2 days earlier with a lot of pain. I had my session early in the evening and the next morning, with no pain, I passed the largest of the 3 stones. I have since been pain and kidney stone free (I have attached a photo of the kidney stones)."
Jane Moller, Wethersfield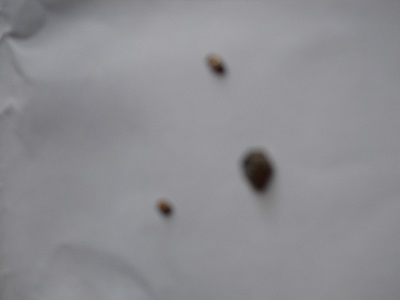 "You have treated me for my knees and right elbow in one session. I have felt really good after the session and it was giving very good relief to my aching knees and elbow. I am looking forward to take more another sessions to relive the pain completely as you have suggested. Thanks."
Pratik, Newinton
"Dr. Liu has treated me with acupuncture for a severe shoulder problem. I slipped on ice in the winter and suffered a severe shoulder injury. The pain was so bad that I was unable to drive with my injured arm. For several months I saw orthopedic doctors and physical therapists with no improvement. Finally I was referred to Dr. Liu. Within several sessions I recovered full use of my arm and shoulder. During the same session, Dr. Liu also treated a recurring migraine that had bothered me periodically (sometimes up to a week each month) for the past 14 years. Following each session I found dramatic relief from migraines and have minimized my reliance on mediation Dr. Liu is a man of integrity and is very skilled at his profession. Honest, honorable, thoughtful, sensitive and considerate. I have referred many people to him as he has helped me very much. I continue to see Dr. Liu for migraine headache relief."
Fran P., Stamford
"I have had aches and pains in my neck for a year. After three months of chiropractic work, I made great progress at relieving the acute symptoms, and my physical well-being was at about a 70% to 80% level. Recently, I've again started to have symptoms of pain and instability in and around the cervical spine. I also suffered a sports-related injury that made my neck feel restricted and painful on the left side. The problem was mostly muscular and I thought acupuncture might just do the trick. After six sessions with Dr. Liu, I can honestly say he's the most thorough and dedicated acupuncturist that I've worked with so far. With a 15-year experience, he was realistic about my healing potential and honest about his own limitations. I felt cared for and am grateful for the results. The pain held in the deepest muscles has steadily released and I again felt more freedom and ease in my movements. I plan to continue working with him and I'm very hopeful that I'll soon feel like I have a young body, free from deep pain and stiffness."
Mike M., New Canaan
"I would have been satisfied by Dr Liu relieving me of my back pain, improving my digestion, but he has gone beyond helping me in those specific ways. He has improved my general wellbeing. I didn't expect that. I feel markedly better overall. Also I was impressed by Dr. Liu's diagnostic skills during my first visit. He was able to find and disclose old injuries, to be able to see things within my body similar to a high-tech imaging machine. I am grateful he is practicing in our area."
Michael C., Stamford
"I had been suffering for about 3 years with pain in the thumb joints of both hands. I had been diagnosed with osteoarthritis in thumb joints due to years of over use, abuse and misuse of my hands. Traditional western medicine was not helpful in alleviating the pain. This discomfort was making it difficult for me to train in the various "art" that I love. I am 57 years old and practice T'ai Chi Ch'uan, Tui Shou, Lau Ch'uan Su, Wu Chun, sword form and Emei Qigong. The chronic pain was making it difficult for me to properly utilize my hands in these forms. I was having profound pain when training in Tui Shou which is a partnered type of sparring exercise.
After just one acupuncture session with you, when I left the office I had a good range of motion in both thumbs and was pain free for the first time in 3 years. I am very pleased with the results and want to thank you for your wonderful skill and knowledge."
Karen D. Cote, Bristol
"I have had allergy problems with my sinuses for a very long time (10 plus years). These problems got worse when I moved to the east coast and the pollen counts increased. My sinuses get blocked (especially my right sinus), and I get "allergy shiners" under my eyes. I also have problems with sinus headaches. With two treatments from Dr Liu my symptoms noticibly improved. While the needles were in place I could actually feel mucus beginning to drain out of my face and I could breath more easily. I intend to keep getting acupuncture for my allergies. Moreover, I have found acupuncture to be an excellent way to help with stress reduction and general well being. I always feel very relaxed and calm after a treatment."
E.W.
Why Does Specialized Acupuncture Work?
Like the nervous system and endocrine system, the meridian system regulates and controls functions of the human body. Balance healing is achieved when all three systems work together harmoniously. Stimulating the meridian system with the acupuncture optimizes the healing process.
Traditional Chinese medicine has over 3000 years of recorded history and is proven to improve symptoms that are thought incurable with Western medicine.
I am an experienced and licensed professional acupuncturist
I offer a combination of acupuncture and herbal remedy to meet your individual health needs
My past experience in cardiology allows for a holistic understanding of the body
I will review your main complaint, lab results, and diagnosis for a comprehensive understanding of your current well-being
Every acupuncturist is different since they have a different medical education background, different Western medical and/or traditional Chinese medical clinic performance, experiences and specialty. Whether you will ever get the relief from the chronic condition is decided by the spot team (in which needles are inserted) your acupuncturist chose for you with his/her clinic experience. So, what you need is very carefully to make right choice when you suffered from ill health
Dr. Chunhui Liu received his M.D. from Jiangxi Medical College in China and completed post-residency rotation in various branches of internal medicine including cardiology, endocrinology, gastroenterology, geriatrics, hematology, oncology, respiratory disease, and urology. Having served with distinction high-ranking government officials and their families in the province of Jiangxi for more than ten years, Dr. Liu had extensive experience and expertise in both Western medicine and the traditional Chinese medicine. Now as a certified acupuncturist serving the greater Connecticut area, Dr. Liu's unique background allows him to treat patients by using the best consideration of Western medicine and traditional Chinese medicine such as acupuncture and herbal remedies.
Dr. Chunhui Liu, M.D., L. Ac.
Specialized Acupuncture & Herbal Medicine Clinic
61 Arrow Road
Wethersfield, CT 06109
203-979-6828